Pens With Logo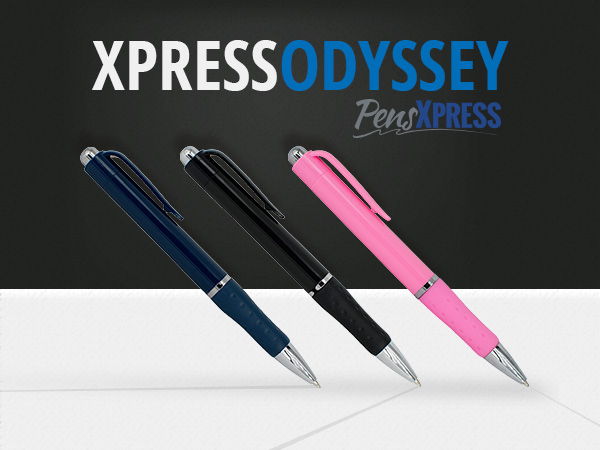 You can feel the power of pen with the gift of a Xpress Odyssey pen. The best feature about this pen is that it is good looking, has a comfortable grip and elegant silver accents. You can add a logo or your business details on the pen and make the writings unique in a memorable way. All you need to do is choose the barrel and the color of the text of your choice from the many modern fonts.
"I have been ordering pens from this company for years! Always great service and a great product!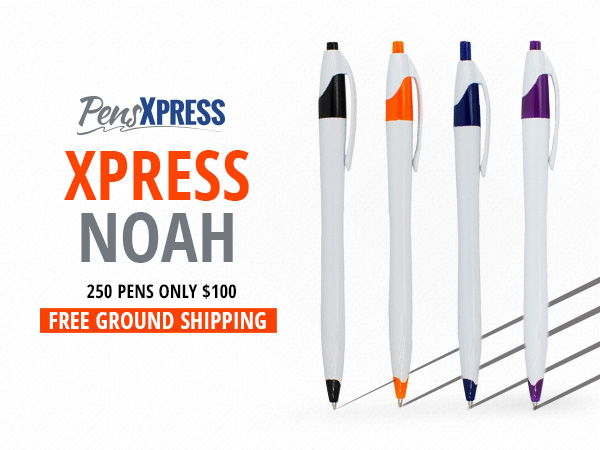 You can make your business stand out with the Xpress Noah pen. It comes with appealing colors that make everyone to stop in their tracks. It has a comfortably textured grip and a smooth barrel shape that enhances comfort as you write and also makes it fun to look at.
"Great pens, even tho low price very good quality."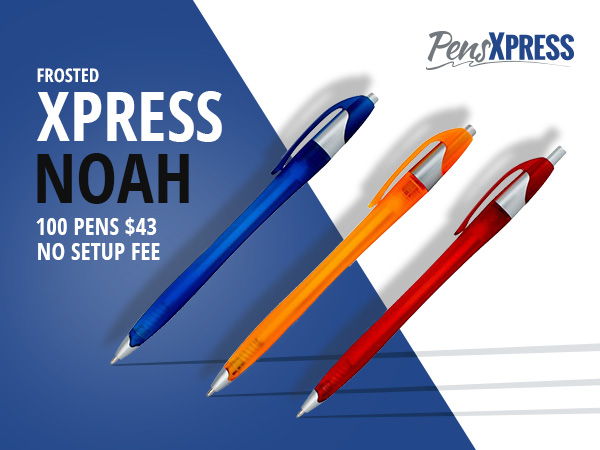 Xpress Noah Frosted is an excellent pen which has bright frosted colors that make it more appealing to look at. The pen is rectangular in shape and carries the color up through the clip making it have a streamlined look. It has a matte silver style pen tip and a gently curved javelin shape that makes it easy and comfortable to hold.
"Ordering was easy, the pens delivered quickly and they write very well. Will do business with you again. Thanks."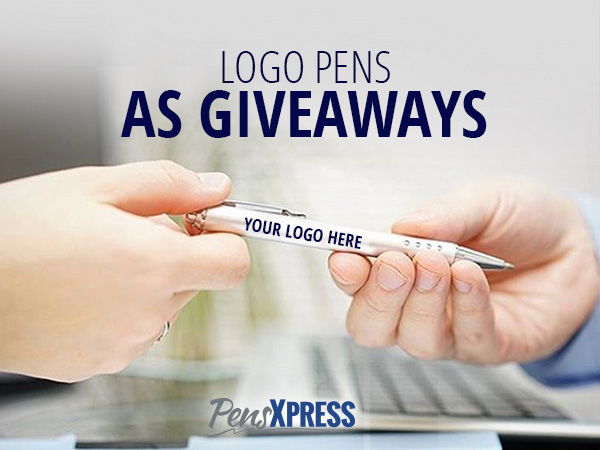 Logo PENS AS GIVEAWAYS
A good pen makes writing an enjoyment. As a business person, share that pleasure with your clients, staffs, family or friends. Gift pens with logos and taste this feeling. It is no secret that logo industry believes firmly in the power of pens for promotional purposes. Personalized writing on pens works magic. Personalized pens can help to raise your small business that you just started up into a highly recognized brand. This method is both efficient and affordable. If you want to deliver the brand's impression on a consistent basis, logo pens giveaways are the best way for you.
USE OF PENS WITH LOGOS
Pens and writing tools are essential in everyday activities. They are needed for many tasks, may it be working or studying, they are used in a multitude of activities in the world. As a business person, if you are seeking the best way to make people remember your organization, choosing a promotional pen or a writing material is not a bad idea. You can offer a variety of personalized pens depending on the message you want to pass to the people. You can include your organization's name, phone number and the company's logo so that you will always be in the mind of customers.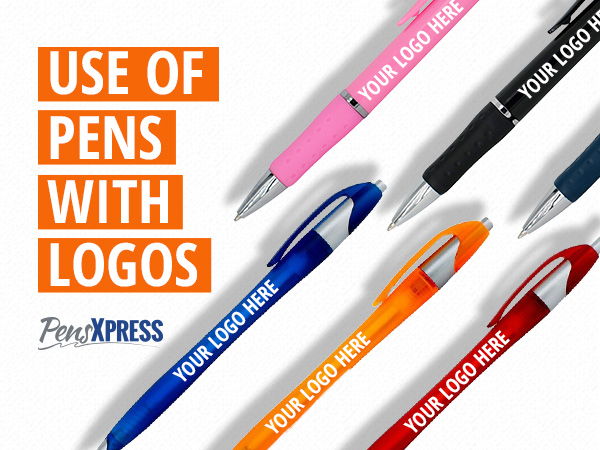 At Xpress personalized pen, we offer great pens and at an affordable price. We offer a variety of pens and styles that suit the requirements of each customer. Xpress pens are very popular among business persons who wish to promote their businesses at special events or even at local get together. They are also ideal for office use, you can issue them to clients to fill forms and other paperwork, and they will always see the logos on them.
Other than using pens with logos for business promotion, you can also use them to boost the employees' morale. You can give them as gifts to the most outstanding workers which will motivate them to work harder. They can also help you to create a positive business image.
Data has shown that custom pens are the third most popular promo items. They are the elements that most marketers do not give enough consideration since they are not aware of the magic they could work for their businesses. The key things about marketing are one, exposing the company's name and two, the services offered. Pens have been proved to be an effective medium for achieving this and gaining more brand awareness.
At first, you may not find custom pen promotion strategy as a noble thing in your valuable marketing that you might have used millions of dollars. But if you consider deeply into the many uses of pens, for example, you can do that by monitoring your daily pen use; you will realize just how a lot of people use pens each day. Think about your favorite pen and how it feels whenever you are holding it and putting ink down. You even feel like using the same pen over and over, day in day out. Now think the same with your clients if you decide to give them that eye catching and comfortable pen.
However, when considering using a custom pen, you need to be innovative and creative when selecting them. There are thousands of varieties to choose from, and they all come with different prices and quality. You first need to identify who are your target audience which will help you realize that you will need to use different styles and grades of pens. For example, you cannot use a $5 pen to anyone who stops by your booth even without buying anything. It might be of great loss to you. Moreover, you do not want to give 10 cents worth dollar to a client who spent thousands of dollars on your company's products. It might seem disrespectful or like an insult. If a prospect does not purchase a thing, they need to get lower grade pens and higher grades for the shoppers.
Statics have shown that one pen has an average of seven users in its lifetime. Some will borrow and never return, some will steal it and others will drop it unknowingly, and someone else collects it and keeps it. If the pen has your company's name on it, it will reach out to about seven people. In a year, if you distribute 1000 pens, approximately 7000 different users will get to know about you.
PensXpress is the best place to come for any help concerning pens. We offer our services at affordable prices. We always ensure to provide high-quality personalized pens. Our staffs are experienced to provide expert and fast services. We also offer you with a large variety of colors and styles to choose from. Contact us if you need any help choosing the best body and ink color for your personalized pen.